National Road Safety Week
Published on 08-01-2017
Dear all
The 28th Road Safety week is being observed from 9th to 15th January 2017 with the theme "Your Safety secures your family, Be cautious on Road"
Global Picture: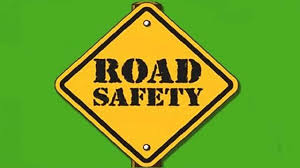 Based on World Health Organization's (WHO's) Global status report on road safety 2015, 1.25 million people die due to road accident every year and as many as 50 million people get injured, with 90% of these casualties occurring in developing countries.
It is also the leading cause of death among people aged between 15 and 29
2nd Global High Level Conference on Road Safety was conducted in Brasilia (Brazil) in Nov 2015 (co-sponsored by WHO).
All the participating countries committed to "halve the number of global deaths and injuries from road traffic accidents by 2020". This is popularly known as 'Brasilia Declaration on Road Safety'.
Situation in India:
India, being a signatory to Brasilia Declaration, is equally committed to reduce the number of road accidents and fatalities by 50 per cent by 2020.
Road safety is a major public health concern for authorities in India.
And casualties in India account for about 10% of road deaths worldwide.
As per the road accident data for 2015 and its detailed analysis, some important figures are as below-
No. of road accidents- 5,01,423
No. of persons injured in road accidents- 5,00,279
No. of persons killed in road accidents- 1,46,133
About 1370 accidents and 400 deaths take place every day on Indian roads, i.e. on an average 57 accidents and 17 deaths take place every hour.
About 54.1 per cent of all persons killed in road accidents are in the 15 - 34 years' age group.
Drivers' fault has been revealed as the single most responsible factor for road accidents, killings and injuries on all roads in the country, over a long period. For the year 2015, it accounted for 77.1% of the total road accidents.
Within the category of drivers' fault, exceeding lawful speed/over speeding was the major contributor for the accidents and deaths (62.2% and 61% respectively)
Two Wheelers accounted for a highest share in total road accident, with 28.8%.
Rural areas are more prone to road accidents, accounting for 53.8 per cent of total road accidents
About 49 per cent of total accidents took place on the traffic junctions.
Steps to improve Road Safety:
Under the guidance of the Ministry of Road Transport & Highways, Govt. of India, National Road Safety Week is being observed in the month of January, with a specific theme for each year.
This is being organized to create awareness among general public to improve the safety on road and to give an opportunity to all stakeholders to contribute to the cause of road safety.
During the week, awareness about various causes of road accidents and measures to prevent them will be highlighted by organizing various activities with School / college students, drivers and all other road users.
These activities include display of banners, road signage and pamphlets related to road safety.
The Ministry encourages regional governments to take the lead on Road Safety Week initiatives and provides a list of suggested activities to promote road safety in their region.
The Ministry also allocates a budget to each state to help them organize these activities and engage the public.
The 27th Road Safety week was observed from 10th to 16th January 2016 with the theme Road Safety: Time for Action
"Ten Golden Rules for Road Safety"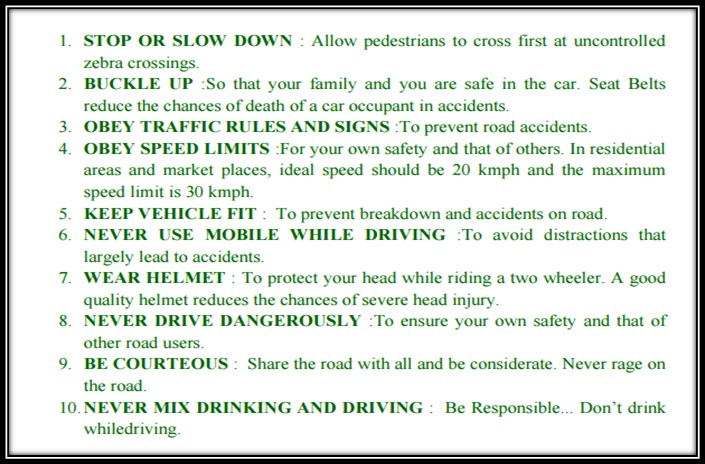 Each one of us should understand our responsibility towards road safety.
Hence let us all go back to basics, take pledge to follow the rules and regulations in order to have a safe journey and to avoid accidents.
Courtesy: www.data.gov.in, www.morth.nic.inPublished on 08-01-2017