National Road Safety Week
National Road Safety Week is observed throughout India in the month of January (11 to 17 Jan) under the guidance of the Ministry of Road Transport & Highways, Govt. of India.
Road safety is a major public health concern for authorities in India. About 1.4 lakh persons are killed in road crashes every year while many more get injured and disabled for life. Youth in the age group of 15 to 24 years comprise 33% of the total fatalities. And casualties in India account for about 10% of road deaths worldwide.
Ministry of Road Transport & Highways encourages regional governments to take the lead on Road Safety Week initiatives and provides a list of suggested activities to promote road safety in their region. The Ministry allocates a budget to each state to help them organize these activities and engage the public.
The Safety Week is being organized to create awareness among general public to improve the safety on road and to give an opportunity to all stakeholders to contribute to the cause of road safety. During the week, awareness about various causes of road accidents and measures to prevent them will be highlighted by organizing various activities with School / college students, drivers and all other road users. These activities include display of banners, road signage and pamphlets related to road safety.
The themes for the year 2015 and 2014 are as below-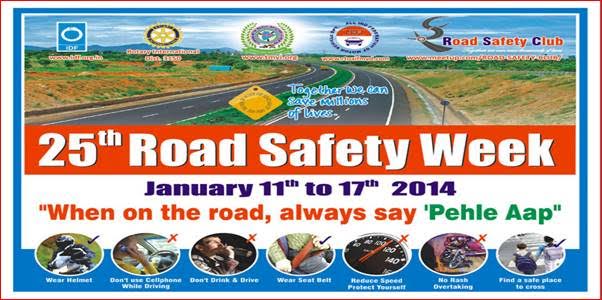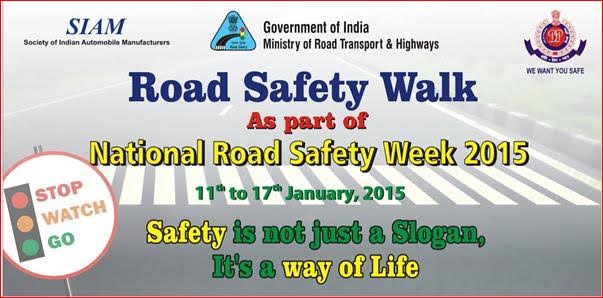 The 27th Road Safety week is observed from 10 to 16 January 2016. The theme for this year's Road Safety Week is Road Safety: Time for Action
Each one of us should understand our responsibility towards road safety. Hence let us all take pledge to follow the rules and regulations in order to have a safe journey and to avoid accidents.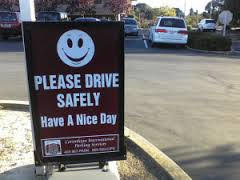 Courtesy: www.roadsafetyweek.org, www.nsc.org.in, www.morth.nic.in