Oil & Gas Conservation Fortnight 2016

Oil & Gas Conservation Fortnight (OGCF) is an annual event of the Ministry of Petroleum & Natural Gas, organized by Petroleum Conservation and Research Association (PCRA) and Public Sector Oil & Gas companies during 16th to 31st January.
In order to generate awareness among the masses about the urgency of conserving petroleum products, this was initially started as Oil Conservation Week (OCW) in the year 1991 and continued on every year.
Considering the over-whelming response and enthusiasm generated by this OCW, and to further increase the reach as well as effectiveness of the oil conservation campaign, the duration of OCW was increased to a fortnight from the year 1997 onwards, making it Oil Conservation Fortnight (OCF).
With increasing use of cleaner and eco-friendly gaseous fuels in the country, the conservation of these fuels has also become equally important. Keeping this in view, the national fortnightly conservation campaign has been renamed as "Oil & Gas Conservation Fortnight (OGCF)" in place of Oil Conservation Fortnight (OCF) since 2004.
Oil & Gas Conservation Fortnight for 2016 is celebrated from 16th to 31st January with the theme "CLEAN FUEL".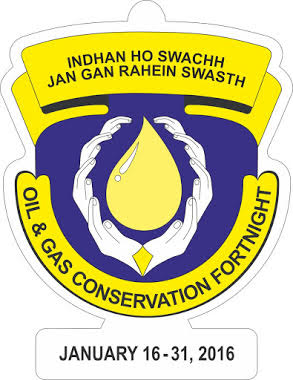 Pledge for OGCF 2016
We do hereby solemnly pledge that we shall be continuously striving to conserve petroleum products in all spheres of our activities so that supplies of these scarce resources last longer for the progress of our country. We will shoulder the responsibility of a good citizen and endeavour to educate the people to avoid wasteful use of petroleum products and use cleaner fuels for environment protection.
India has committed in COP-21 meeting recently to bring down the carbon footprint, and the way forward is through clean fuel and fuel conservation. And this conservation of precious fuel resources has to be a sustained and voluntary process.
As a part of our social responsibility, we need to make ourselves aware about the conservation tips and follow these in right perspective in the related areas- be it Transport, Industrial or Domestic sector. Let us all be a part of the change and disseminate the message about use of clean fuel and its conservation.
Courtesy: www.pcra.org, www.petroleum.nic.in