World Quality Day 2015
World Quality Day was introduced by the United Nations in 1990 to increase worldwide awareness of the important contribution that quality makes towards a nation's and an organisation's growth and prosperity. It is celebrated every year on the second Thursday of November. Theme is announced every year by the Chartered Quality Institute (CQI).
The purpose of World Quality Day is to promote awareness of quality around the world and to encourage individuals' and organisations' growth and prosperity. In a global economy where success depends on quality, innovation and sustainability, World Quality Day is the chance to reinforce these as the foundations of any organisation and focus on the importance of quality.
World Quality Day 2015 is celebrated on 12th Nov 2015 and the theme for World Quality Day 2015 is 'Sweet Dreams'.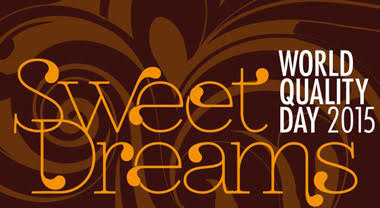 Developed from the cocoa bean, chocolate is one of the most consumed products in the world but the cocoa industry is facing a series of problems. The theme for 2015 is designed to create awareness on the problems faced by cocoa industry and how Quality Professionals can help overcome these problems. A 2015 report by the Earth Security Group raised some of the key challenges affecting the industry, such as profitability for farmers and the productivity of cocoa trees. These are areas where quality professionals could provide potential solutions.
During this occasion, special events are organized by most of the organizations- like seminar, quiz competitions, presentations etc. to spread importance of Quality to all their employees.